27 young film-lovers, each representing one European country, meet every year since 2010 to attend the Venice International Film Festival under the 27 Times Cinema Initiative. This project is set up by the LUX Film Prize of the European Parliament, in partnership with Europa Cinemas, Giornate degli Autori and Cineuropa.
Since 2014, the GdA Director's Award allows the 27 young participants – together with the Jury moderator, Karel Och (artistic director of the Karlovy Vary IFF) and the Jury president (a different director every year) – to grant €20.000 to their favorite film.
WHO CAN PARTICIPATE ?
• Film lovers aged between 18 and 25
• With excellent English skills (reading, written and spoken)
• Good ability to write articles and blogs
• Active on Socials (Facebook, Twitter, Instagram, Youtube, Snapchat)
• With skills in podcasting, blogging, video editing, photographing or any other communication tools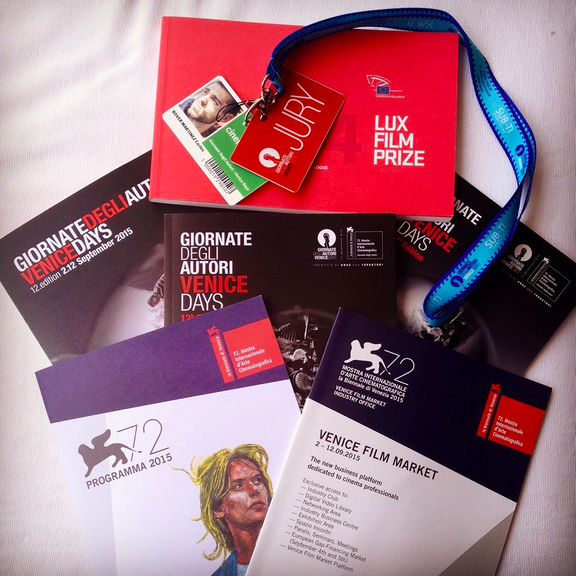 HOW TO APPLY ?
• Do and send a video in which you explain what do you love in cinema. Start the video saying "Cinema for me is…" Before may 15 to Contact@galeries.be
Make it fun and original !

Technical requirements:
Shoot it in English
In high resolution (Full HD: 1920×1080 px) and with an excellent audio recording
Duration: 30 seconds
The video should contain the following information : Name and country of origin.
Take a look to the Europa Cinemas' Vimeo channel
to check out previous year's examples. (https://vimeo.com/showcase/7390920)
Fill and send us the online application form to Contact@galeries.be !
https://form.jotformeu.com/EuropaCinemas/27TCForm2021
27 TIMES CINEMA invites 27 young European filmgoers (one participant per member
state of the European Union) to attend the 2021 Venice Film Festival as Jury Members of the Giornate degli Autori selection.
WHAT HAPPENS IF YOU'RE THE LUCKY ONE ?
You win a flight ticket to Venice and get free accommodation in the Lido where the festival takes place. You'll be offered a free festival accreditation (and priority access to the Giornate degli Autori screenings).
IMPORTANT : You should commit yourself to :
• Be present in Venice before the start of the festival, from Tuesday 31th August to Sunday 12th September 2021 (festival dates: 1-11 September),
• Be a jury member for the films competing for Giornate degli Autori.
• Take part in round-table discussions, masterclasses and workshops focused on improving your communication skills as influencer to be actively involved in raising awareness of the LUX Audience Award in the future.
• Contribute to Europa Cinemas website and social networks,
• Promote and spread the word about the new LUX Audience Award after the festival using the skills learned in Venice,
• Attend and help organise events in the frame of the LUX Audience Award (mainly January-May of the following year),
• Be available to participate in the LUX Selection panel 2022 (1-2 days between June- September).
Don't miss this unique opportunity! Let your dream come true!
*Co-organised by the European Parliament, the LUX Audience Award, the Giornate degli Autori and Europa Cinemas, 27 Times Cinema aims to promote shared values and cultural diversity through cinema among young people.
For further information about this initiative please visit:
https://luxaward.eu/en/27-times-cinema | https://www.europa-cinemas.org/en/activities/find-and-foster/28-
times-cinema | https://27timescinema.cineuropa.org | https://europa-cinemas-blog.org/28-times-cinema
http://www.giornatedegliautori.com/